Trainer 12 Swim Spa
High Performance, Air-injected VIP, Adjustable Speed
The Trainer 12 includes aquatic fitness equipment, the H2Xercise™ Fitness System, for muscle-defining and strength-building exercises. Master Spas' exclusive Xtreme Therapy Seat and Cove delivers luxurious, head-to-toe, muscle massaging and mind-relaxing healing.
Dimensions
144" x 94" x 51"
(366cm x 239cm x 130cm)
Hydrotherapy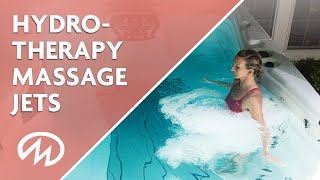 H2X Fitness Swim Spas provide a calming retreat where you can find relief from muscle aches and achieve peace of mind.
Previous
Next